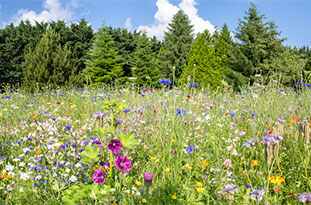 Efforts That Help Support Ecosystems
Various environmental sustainability initiatives across our global divisions contribute to helping to support ecosystems around the world. Some examples of these initiatives in Fiscal 2023 include:
For the past two years, a portion of the carbon offsets we've purchased to offset our operational and reported Scope 3 emissions in Canada have helped support the Katingan-Mentaya Peatland Restoration and Conservation Project. The project seeks to restore valuable ecosystems and habitat for endangered wildlife in Central Kalimantan, Indonesia. Before the project intervened, the area was destined to be developed into an industrial timber plantation.
In Fiscal 2023, we worked with local companies to install beehives at our office locations in both Framingham, Massachusetts and Watford, England. Through these programs, TJX aims to support plant health and biodiversity in the surrounding areas.
In Fiscal 2023, TJX Europe provided Associates an opportunity to vote for local environmental organizations to have the opportunity to receive donations from the previous years' sale of reusable carrier bags across Europe. All of the selected organizations seek to make a positive impact on the environment by supporting biodiversity, reducing waste, and/or addressing climate change. For example, our donation to Natuur & Milieu in the Netherlands supports their effort to build reefs on North Sea wind farms to bring cold water coral and other wildlife back to the area.
Through charitable donations, TJX Europe has supported a variety of organizations that aim to preserve ecosystems and biodiversity. In Fiscal 2023, this included the Woodland Trust's Emergency Tree Fund, which aims to plant 50 million trees in the U.K. by 2025, and the Native Woodland Trust, which works to preserve Ireland's remaining ancient woodlands and to restore and recreate woodlands using only native seed.
Where feasible and available in the marketplace, we have sourced certain products that contain paper, paperboard, and wood materials that have undergone Forest Stewardship Council (FSC) certification, such as FSC-certified wood for outdoor furniture sold at our HomeGoods stores and FSC-certified paper stock for certain stationary, gift wrap, and gift card styles sold in the U.S.