Stakeholder Engagement
We strongly believe that for our policies and practices to be effective, they must evolve and be informed by the perspectives of our many global stakeholders, including our Associates, customers, shareholders, and others. We view engaging with these various stakeholders, in addition to industry associations and partners, as an opportunity to hear insights and learn. We take into account a variety of perspectives as well as our off-price business model as we consider our programs and reporting.
Engaging With Our Associates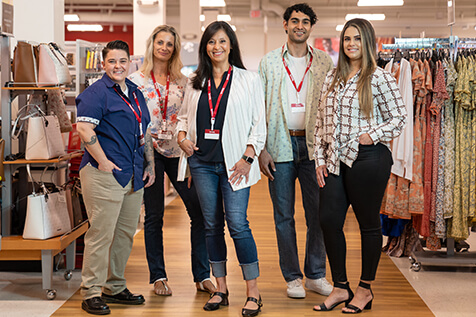 We believe Associate engagement, relationship building, and our open-door philosophy are some of the factors that are key to maintaining our culture, whether in our stores, distribution centers, or offices around the world. We want our Associates to be informed about our businesses and encouraged to learn and grow through both formal and informal interactions. We believe these efforts help strengthen our inclusive culture so Associates feel welcome, valued, and engaged. As such, we have many different ways to communicate with and engage with our Associates.
As our office Associates migrated from working remotely in Fiscal 2023 to hybrid work schedules, we were pleased to be able to continue engaging our Associates through Town Hall meetings, State of the Company meetings, and CEO updates, both virtually and in-person. Additionally, we continued to publish The Thread, our global intranet, and The Loop, a weekly e-newsletter, which disseminate announcements and facilitate information and policy sharing; TJX geographic-specific publications, such as TJXtra in Europe; and weekly bulletins in various regions around the globe. We also continued to use Yammer, a social media tool, to foster relationship building.
In our stores, we share important company information with and receive feedback from our Associates through team huddles. Our in-store bulletin boards are another important tool in sharing company information and also feature store news, like volunteer events, fundraising successes, new processes, and more. We also have programs for Associates to share ideas, including thoughts on how to further improve the customer experience, as well as several in-store programs designed to motivate and reward our Associates, stores, and districts.
As our programs continue to evolve, so do our efforts to engage with our Associates regularly so that they may have an impact on our inclusion and diversity (I&D) work. Our global Inclusion and Diversity Advisory Boards include Associates representing a variety of functions, levels, and backgrounds across our stores, distribution and processing centers, and corporate offices. These Advisory Boards help to guide and shape our I&D work, helping to align our programming with the needs of various Associate populations.
To help foster engagement with our environmental sustainability strategy and program, teams throughout our business have been coming together to collaborate. For example, our Green IT committee is focused on managing and leveraging technology to reduce the TJX Global IT team's environmental footprint.
Additionally, Associates can get involved with Company's community relations work. Associates in each of our regions are able to nominate organizations within their communities for the opportunity to receive a grant from one of the Company's foundations. Over the years, donations have been made to a variety of organizations including children's hospices, mental health charities, children's cancer care centers, foodbanks, and homeless services. We are very proud to have Associates around the world who volunteer their time and who are committed to doing good in their communities.
Engaging With Our Customers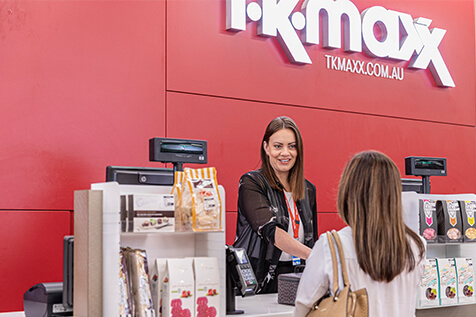 Our customers are very important to us, and engaging with them allows us to address their changing preferences, tastes, interests, and concerns. One way we measure our success is by asking customers to rate their experience using online customer satisfaction surveys. Based on what we hear from our customers, we regularly provide Store Operations management with feedback regarding store performance so they may identify opportunities and address issues quickly—and with the intent of ultimately improving the in-store experience. This input also allows us to develop clear customer experience training for store managers, team leaders, and Associates. The data has also helped drive broad improvements across many of our retail chains, including redesigning floor plans, creating small "shops," and changing lighting to better highlight products. We have carefully tested each initiative for how it can drive excitement about our retail chains and products and continue to help deliver the experience we know our customers love and have come to expect.
Additionally, each retail chain has a website that highlights important information such as seasonal offerings, store locations, and contact information for Customer Service groups, and for some of our retail chains, the ability to shop online. Our chains also leverage a variety of social media channels for customer engagement and real-time feedback on shopping experiences. Our engagement efforts are all in place so that we can continue with our goal of providing an excellent experience for our customers.
Engaging With Our Shareholders
In addition to our public disclosures and corporate responsibility reporting, we speak regularly with shareholders throughout each year via meetings, conferences, phone calls, and written correspondence. These interactions allow us to engage with the shareholder community regarding our Company's financial performance and on ESG matters. We listen to our shareholders' insights and perspectives thoughtfully, considering what is best for our many stakeholders and what is feasible for our off-price business model.
Engaging with External Organizations
We believe that developing partnerships with various organizations and industry groups can help educate us, guide and benchmark our programs, and strengthen our initiatives across our corporate responsibility focus areas.
We are affiliated with, or members of committees of, a number of organizations focused on environmental protection and sustainability, including: : American Apparel and Footwear Association (AAFA) Environmental and Social Responsibility Committees; British Retail Consortium Climate Action Roadmap; Closed Loop Partnership—Beyond the Bag initiative; EPA's SmartWay Transport Partnership; Green Chemistry and Commerce Council (GC3); National Retail Federation (NRF); Responsible Business Alliance's Responsible Labor Initiative; Retail Council of Canada; Retail Industry Leadership Association's (RILA) Responsible Sourcing Committee, Sustainability Committee and Zero-Waste Committee; Sustainable Packaging Coalition; Textile Exchange; The Microfibre Consortium.
In addition, we are affiliated with the joint AAFA/NRF/RILA/USFIA (United States Fashion Industry Association) Forced Labor Working Group. These organizations are either focused on environmental protection and sustainability or have committees dedicated to such topics.
To help support us in our Global Social Compliance efforts, we collaborate with various industry groups such as the Joint Forced Labor Working Group, RILA's Responsible Sourcing Committee, AAFA's Social Responsibility Committee, and Responsible Business Alliance (RBA) Responsible Labor Initiative.
We also are members of Ethisphere's Business Ethics Leadership Alliance, Boston College Center for Corporate Citizenship, and the Ethics & Compliance Officer Association.